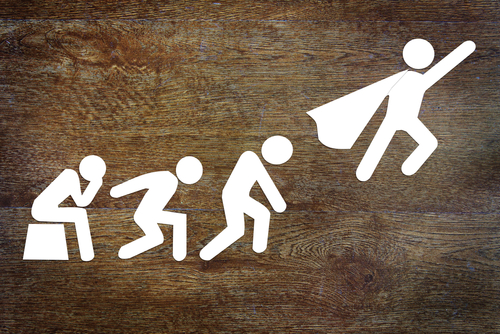 Embracing Change... and the Rest!  - 21st April 2021
I am definitely getting into the swing of things with this blog writing. Just a month since the last one and I'm raring to go with more stories and insights to tell you.
We keep hearing the phrase 'new normal' and never has it been truer than it is at the moment. Lockdown is easing and with luck people will behave responsibly and things can go back to our new normal soon enough. Though it's not really going back is it? It's moving forwards, changing and adapting to what the world has thrown our way in the last year or so.
In my last blog I let you into my lockdown mind-set and how I as well as my business had to adapt and change to keep afloat and remain current. Although looking forwards is crucial for any business, it is equally important, I feel, that we look back and reflect. Embrace our blessings and learn some lessons; and there are always lessons to be learnt.
Illness Bred Awareness
Last year I was unfortunately enough to be very ill (nooo…. it wasn't COVID!) and there was a period of 4-weeks where I had no online presence at all. I was simply too poorly to pick up my phone to write a post. When I started to get better, it dawned on me that during a time where social media activity is at it's highest because people are at home, I had missed out on many potential opportunities.
So there I was, in my hospital bed with gorgeous compression socks on, and my own gown thank you, writing a job description for a social media type role to support my business. Luck would have it that someone who had attended one of my workshops way back when I had a shop, had the exact experience I wanted and out of the blue decided to contact me, on that very day, to see if I wanted any support with my social media as she loved the direction Essence of Cake was going. I mean, how can you not believe in fate when things line up like that! It was a no brainer for me; it was a resounding yes. So since September she has being doing just that. Managing my social media and extremely well I might add. Of course I believe that I can do everything myself to the highest level, what entrepreneur doesn't? But there does come a time when you need an A+ person on a job as a B simply won't cut it anymore. 
Suddenly I had more time. I hadn't realised how much time writing posts across several platforms took out of my day. It was a breath of fresh air as I was now able to look ahead more. Yes I have my long term strategic plan and goals, but the short-term goals are easy to overlook. Thinking about Easter in January and Christmas in August is vital to keep on top of the game, but I hadn't really consistently done that before.
Guru Me? No Guru You!
So throughout the month of March you will know that I took part in the March Meet the Maker challenge, where everyday I had to respond to a phrase or words and share with my customers and followers what it meant to my business and me. This was thanks to Tej, my social media guru and I am so pleased she suggested it.   We started planning for this at the end of 2020, what resources would we need, should we make videos, should I be in them etc etc. 4 months of planning for a 30-day challenge, but it was soo needed. It wasn't something that could have been done last minute, not without me going crazy, and wasn't something I could have done without having my new found time.
It was a huge success, we had the highest amount of engagement and likes than ever before and the number of followers, particularly on Instagram, rose each day. Don't get me wrong, I won't have advertisers banging on my door anytime soon, but it was growth that was making me happy and was good for business.
What the challenge also did was make me seriously think about short term planning, especially marketing and really capitalising social media. And our quarterly marketing plan was born. It's this very spreadsheet (seriously, any excuse to create a spreadsheet) and the thought process behind it that gave you our Treat boxes; we did Valentines, Mothers Day, and St Patricks Day and will be doing Fathers Day and many more.   But without reflecting and bringing support on-board I never would have had the time to plan for such tasty treats, let alone bake them, photograph them and advertise them all in time to give you amble time to buy them.
This very same spreadsheet has given you consistency and feel to our posts, rather than random pictures or quotes with no cohesion. We like to make sense of the world so of course we appreciate it more, even subconsciously at times, when the stories and images we look at flow and follow some kind of story or theme. And you seem to be loving it so the behind the scenes work will continue, will grow and will keep you entertained and happy, like one of our quotes said recently "don't be sad, eat cake!", and we can definitely provide some of the yummiest (if not the most yummiest) cake for you! 
To check out all the great stuff we're doing at Essence of Cake including our new and improved website, visit www.essenceofcake.com