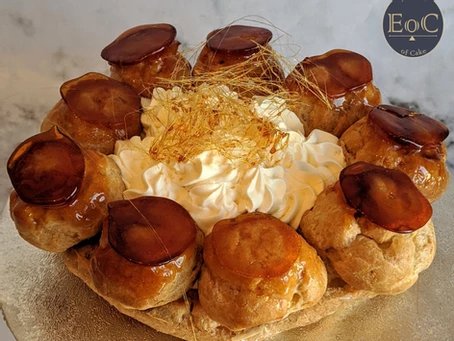 Cake ... It's Emotional  - 24th April 2020
Reading the title to my first blog, you're most likely picturing someone messily devouring a slice of cake, no cutlery or crockery and perhaps a tear or two, a giggle or maybe some indistinct muttering. This scene could be linked with many emotional states, either end of the scale from happiness to sadness, emotional eating!
Well that's not quite what I'm talking about here. What I mean is how emotive cake is. The different emotions, feelings, locations, celebrations and people that cake can conjure up are almost endless.
The definition of emotive is 'arousing or able to arouse intense feeling'. This is precisely why Essence of Cake's strap-line is "More than we perceive cake to be!" We have all heard people say 'its just cake!' but most of us know it's more, and that's what I adore about cake and why it is at the heart of everything I do.

Cake is more than just the sweet smelling food you see in front of you. Our 5 senses are so powerful that they help us perceive the world around us. A smell can take you back to a time your mother baked you a birthday cake along with the sounds of her bustling around the kitchen. A taste can bring back long forgotten memories of a birthday celebration or anniversary get together with friends or members of your family. Touching a springy sponge cake can bring on excitement about eating it. The texture is heaven on your tongue and the flavour profile can simply put a smile to your face. Every sense is used when eating a cake, and although cake doesn't literally speak to you, we all know it 'kinda does!' In addition to all that, we also eat with our eyes.

I will never forget one of my early epic cakes. This was before Essence of Cake was a thing and way before it was an 'us'. The Star Trek themed cake was made for someone very special, my dad. When he slowly removed the lid from the box, the first thing to change was his eyes. They widened as he acknowledged what he was looking at and the fact that it was actually cake. The next change was in his face, which was suddenly frenzied with joy.
As you can see in the picture, he was grinning from ear to ear and he started reminiscing on his love of Star Trek. Animated stories were told about his comic collections from his youth and how he'd recorded the entire original Start Trek series on VHS and labelled them all individually. There was even some physical swooshing and sound effects with the entire cake in the style of the Enterprise reaching warp speed. Lastly he looked up at me, the boy I had never seen and said "thank you". Such simple yet powerful words, it was enough.
It was impossible to witness all of that and say, "it's just a cake"! It was clear to see that every one of his senses was ignited simply from looking at a cake that was lovingly made especially for him. I knew this was what I wanted to do.  One of the things that spark my emotions with cake is when customers send pictures or comments about the impact my cake has had on them or that particular celebration.
A comment that initiated this blog was from a recent customer, Wendy Crounse Giaccaglia, who posted on Facebook: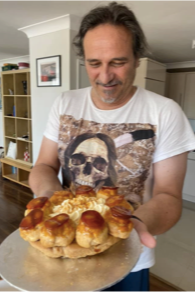 "A couple of weeks ago I panicked because my husband's birthday was coming up and I was worried I wouldn't be able to get a cake for him because of the lockdown. I asked Crystal Palace Local and Essence of Cake was recommended. My Husband's mum always made him a St Honoré cake. Since I'd never heard of it or seen it, I thought I might have to ask lots of bakers. To my relief, she said she could make one. Today she delivered and my husband was so impressed with it. The bignè were perfect and the crème was delicate and gorgeous. Thank you for making my husband's birthday wonderful. If it weren't for social distancing, I'd give you a huge hug."
For Essence of Cake to be responsible for summoning such strong and treasured memories held between a mother and a son, simply from him looking at one of our cakes, is so special and makes us so happy that we can do this for someone. You can literally see the 'childish' grin of happiness on his face and that speaks a thousand words.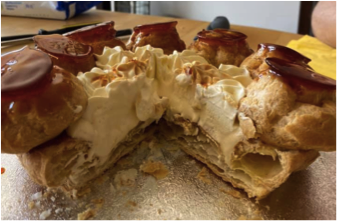 His senses were ignited by the crunch of the caramel, the puffiness of the bignè against the contrast of the smooth delicately vanilla flavoured crème patisserie. Furthermore, there was additional texture from the puff pastry base and creaminess from the Chantilly cream and a bit of fun and show from the spun sugar on top.

So if you are ready for some emotional times through cake, we are here for you; whatever emotion you want to feel!
#essenceofcakes #EoC #emotive #cake #cakelady