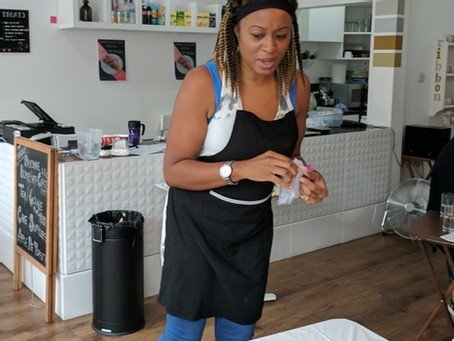 Those who can't do, teach  - 25th September 2020
This statement is an interesting one and certainly is not always true, I've always been happy to laugh in the face of it.  I am very proud of the fact that I am able to teach the things I know to others and I have worked hard to perfect this skill.
As I hope you know, I have an immense passion for baking, cake decorating and building my brand and would like to say that I know what I am doing.  There is always room for improvement of course, which is why I continuously attend workshops and classes for my own betterment.  In fact, just this week I asked someone I mentored in 2019 for some tips on making macarons.  In my mind she has perfected them so who better to ask.
For me, the joys of seeing someone young or old learn a new skill (especially when they didn't think they could or haven't mastered it previously) and to know I have played a part in helping them achieve that is very gratifying indeed.
Tracey the Teacher
Definition of Teaching: Teaching is the process of attending to people's needs, experiences and feelings, and making specific interventions to help them learn particular things. ... They are grouping together teaching, learning and assessment – and adding in some other things around the sort of outcomes they want to see.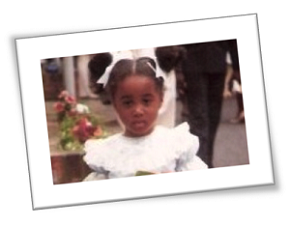 From as young as I can remember I always enjoyed learning and going to school.  My mother told me a number of years ago that I would kindly 'force' my younger cousins to play school, even during the holidays, and I of course was their teacher.  I couldn't tell you what I was teaching them but as long as I was standing in front of them, telling them what to do, I was in my element!
It really came as no surprise to my mother that I found myself as a Trainer in one of my first jobs in a call centre.  I threw down my youthful 'forceful' ways and I used my skill to learn things quickly, grasp a sound understanding theoretically and practically, and then create user -friendly materials and experiences to support any learner.  And although I literally fell in to the job, I loved it immediately.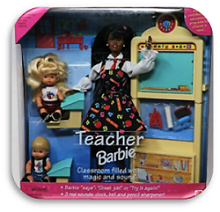 Over my career in Learning & Development (L&D), basedin London, training was so synonymous with my name that a work colleague used to joke that I should have a line of Barbie doll called Tracey the Teacher, accessorised with a flipchart and projector! Quite a good positive female image really, why didn't I give them a call back then?  I just did a quick Google search and who knew, it exists! Lol.
I spent 18 years of my working life in training and development roles, never forgetting to develop my own skills and knowledge.  Even when I'd leave the industry, which I did a couple of times, I'd find myself coaching or mentoring my clients.  Teaching others always found me again.
Tracey the Baker & Cake Decorator
As I said in my first blog, I have baked for 30 years and when I left my career in L&D to start my cake business, teaching others couldn't have been any further from my mind.  But I am one of those people who once I've learned or experienced something I like to AND want to share what I know with others.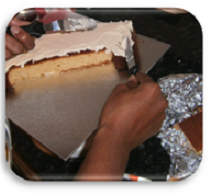 Oh-oh, training had found me again!
I remember the days of sitting in my shop sending out polls through social media asking what people wanted to learn and creating workshops. Yes, I had a lot of things I would love to teach, but I needed engage with my customers to understand what they wanted to learn.
Because at the end of the day it's not just about me, if you want your customers to enjoy what they are learning, it needs to be of some value to them, something they want to be able to replicate at home for example or to use when the time comes.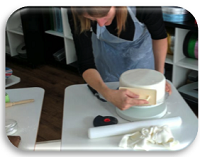 So there I was using my old workshop planners, which I thought I'd never see again, building content and equipment lists and most importantly, figuring out the timing. I am a bit of an admin geek so this part is just as much fun for me (sad I know). Before I knew it I'd launched my first workshop ' Covering a Cake in Fondant'. There was a resounding 'yes please' to this topic and it was very much so top of the list.
A Recipe for Success
Learners are all different, yes some can watch a YouTube video and become the master after one viewing, but not everyone is like that. My learners like to have a teacher in front of them, so they can see what I am doing from all angles, ask questions and get physical support when needed. This is what made my workshops popular; a calming, relaxing and fun environment to learn something new. I had the training knowledge and the cake knowledge and I had decided to use my 'superpowers' for good!

We all know that with 'great superpower comes great responsibility'! Well if you're into Marvel you will, I know it's not just me. So I did, I put on more dates, ran more polls, 'whipped-up' more topics and put on more workshops and they have been running ever since.

I have been lucky enough to find two passions in my life and to be able to combine makes my heart sing, but I wanted more…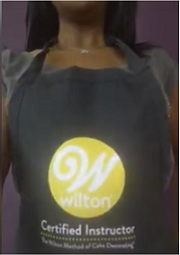 Running my own workshops was great but I wanted to be able to deliver something accredited, more tangible and more recognised in the cake world.  I had always used Wilton products; they are one of the best.  I sold their products in my shop and sell them in my online shop too.  I was so grateful that it was brought to my attention that Wilton accredit people to run their classes.  Alas, had I found what I was looking for?  Hook, line and sinker!
 
Wilton is an American cake company who have specialised in everything cake for almost 90 years.   I contacted them, registered and went through their training program where I had to learn their three classes to their specifically tried and tested techniques from crumb coating a cake to piping a Lily using royal icing.
Wilton themselves were so helpful and answered every annoying question I had.  They really made me feel part of the family.  I became a Wilton Method Instructor, got my apron and off I went to start proudly promoting my new Wilton classes:
Building Buttercream Skills
Flowers & Cake Design
Gum Paste & Fondant
So I suddenly went from 2-3 workshops to a full day (8 hours) of teaching. It was intense when I ran my first one but wow was it rewarding. I don't think I had ever felt so exhausted at the end of a workshop but my students were so amazing, they learnt so much and we had so much fun that we probably could have kept going into the night. The workshop was received so well, that they both attended the 2nd workshop and one of them decided on the full hat trick and attended the 3rd workshop also.

If you would like to attend a Wilton Workshop, click here for upcoming dates.