Afternoon Tea Food & Infusions Menu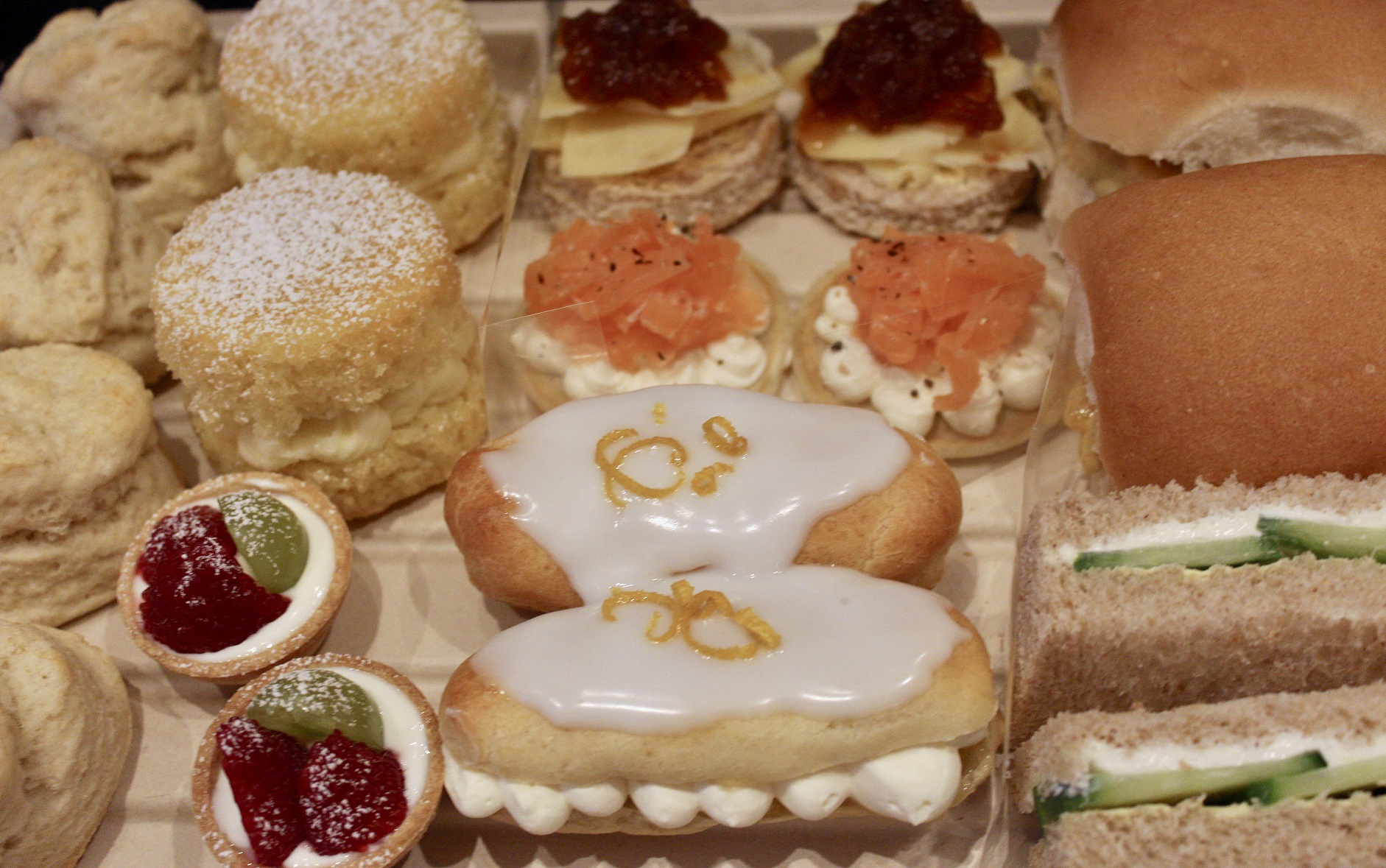 From bites to delights, pick a combination that is unique to your tastes.
We have vegan, vegetarian, halal and gluten free options available also (prices may vary). Please let us know when you book if this is something you need. We require just 48 hours notice and deliver 7 days a week. Child prices also available.
Bites
Select 4
A choice of delicately cut sandwiches to elate your taste buds, a great start to your afternoon tea.
Cucumber with Cream Cheese sandwich (v)
Salmon with Cream Cheese and Chives blini
Tuna and Sweetcorn sandwich
Cheddar and Victorian Chutney slice (v)
Beef and Horseradish Cream mini Yorkshire pudding
Egg Mayonnaise with Watercress mini roll
Prawn and Avocado slice
Coronation Chicken mini roll
Red Pepper and Goats Cheese slice (v)
Turkey Ham and French Mustard sandwich
Hummus and Roasted Vegetables sandwich (v)
Parmesan, Poppy Seed and Sesame Seed pops (2 per person)
Chicken salad sandwich
Avocado, Rocket and Cherry Tomato wrap (v)
Infusions
From Morocco to India, mouthwatering tea flavours to tickle those taste buds (available with option 2 and 3 only and flavours subject to change).
Green Tea Pomegranate
White Tea
Rooibos
Earl Grey
Green Tea
English Breakfast
Calming Blend
White Tea Tropical Fruits
Super Berries
Peppermint
Lemongrass, Citrus & Ginger
Chocolate, Rooibos & Vanilla
Lemon Black Tea
Delights
Select 3
A selection of tantalising cakes, pastries and scones to add that touch of decadence to your afternoon tea.
Plain and Fruit Scones with jam & clotted cream *
Coconut Sponge slice with lime buttercream
Fruit Tart with seasonal fruit
Victoria Sponge with raspberry jam & vanilla buttercream 
Choux buns with lemon curd & cream (only available for bookings with 4+ people)
Raspberry Friand
Meringue Kisses (3 per person)
Macarons (2 pp, only available for bookings with 4+ people)
Viennese Whirls with raspberry jam & buttercream filling
Battenberg
Apple and cinnamon triangle 
Prices
Start from just £20.00 per Adult and £15.00 per Child**
Order here, or call us on 020 3784 6030, or email us at This email address is being protected from spambots. You need JavaScript enabled to view it. to book or for more information.
*this is automatically part of the menu (makes 4 in total) ... it just wouldn't be an afternoon tea without scones!
**Child price includes 3 bites and 2 delights.